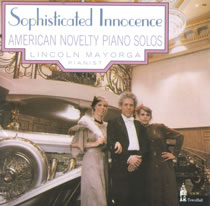 Sophisticated Innocence:
American Novelty Piano Solos
# THCD-35
The vitality and playfulness of the jazz era is captured in this collection of novelty piano solos composed by colleagues of George Gershwin. Pianist Lincoln Mayorga's light-spirited and virtuosic playing brings life to this rarely recognized American genre of music. Included on the Compact Disc is a nineteenth century precursor of the novelty piano solo, Louis Moreau Gottschalk's "The Banjo".

Zez Confrey
01 Kitten On The Keys (2:18)
Bix Beiderbecke
02 In A Mist (4:35)
Jesse Greer
03 Flapperette (2:34)
Lee Sims
04 The Moth (3:53)
Gus Chandler
05 Candian Capers (3:27)
Felix Arndt
06 Nola (2:29)
Roy Bargy
07 Slipova (2:38)
Louis Alter
08 Manhattan Serenade (4:19)
Lou Busch
09 Waltz in Ragtime (2:50)
Rube Bloom
10 Sapphire (2:59)
Nacio Herb Brown
11 Doll Dance (2:08)
Zez Confrey
12 Dizzy Fingers (2:25)
Louis Moreau Gottschalk
13 The Banjo (3:58)